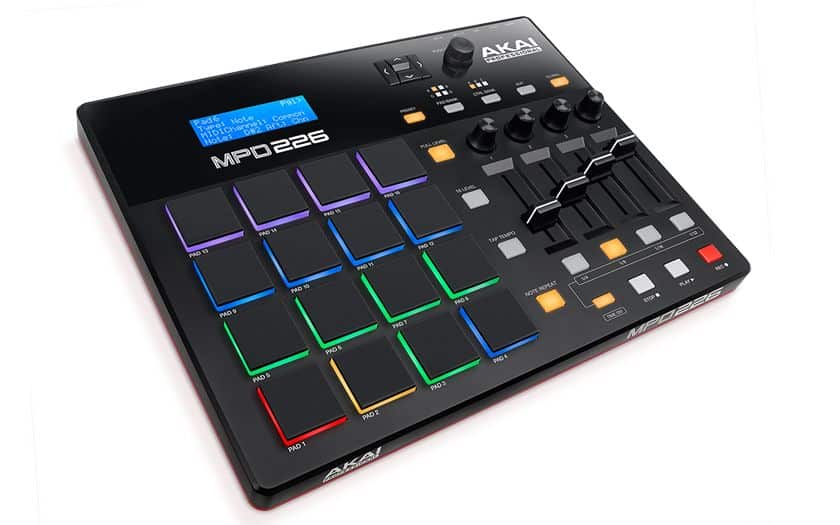 The Akai MPD226 is a feature-packed pad controller designed and made by Akai Professional division. The MPD2 Series has been in development for over 6 years and it shows. The end result provides the creative musical expression and workflow that is expected from a full-on pro pad controller. The MPD226 is a MIDI over USB controller made with music producers, programmers and DJ's in mind. It is intuitive and flexible, and thanks to its easy USB connectivity you can set your working platform very quickly.
The Akai MPD226 is a big step forward
To give you control over your music production, Akai has added 16 responsive and pressure-sensitive MPC pads. Furthermore, it contains banks with 64 assignable pads. Also new is a set of 4 assignable faders, 4 Q-Link knobs and 4 Q-Link buttons. These will let you maximize the sound as you perform and play with the effects you want. The MPD226 is class compliant and powered by a plug-and-play USB cable. In other words, you can use it on Mac as well as Windows without installing drivers. The MPD226 supports connectivity to any iOS through the camera connection kit (sold separately).
A great feature included on this pad controller is the free software that lets you start producing right away. It contains the Akai Pro MPC Essentials, Big Bang Drums, Percussion from Sonivox and Ableton Live Lite programs. The MPD2268 is MPC 2.0 ready, meaning it has a cutting edge production suite that lets you the ability to do real-time stretching. Additionally, it has Advanced MIDI editing, VST compatibility and Standalone application on MAC and PC. All of this in addition to audio editing, recording and superb DAW integration. In other words, the Akai MPD226 is the ultimate Adaptive and creative music production interface.
Image: Akai Professional