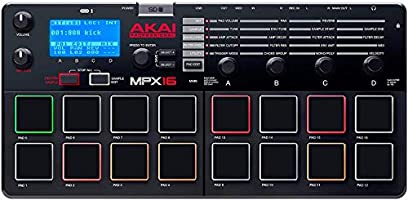 The Akai MPX16 is a sampler player composed of 16 backlit-velocity and pressure-sensitive pads that lets performers use sounds and samples stored on SD or SDHC cards. You can insert an SD card and assign all of its contents to any of the pads the MPX16 has. Its design lets you use it at your home studio, pro studio or even onstage to enhance your performance. It all adds to a powerful hardware tool for sampling.
MPX16 and all its uses
The MPX16's external connectivity captures the sound of your studio gear and other sound sources through its 2 1/4-inch jacks. This sampler has onboard editing tools that give you fast and precise sample trimming and paid assignments. With the headphone jacks you can follow your captures, and a built-in mic provides immediate sample capture. This way, when inspiration strikes you can take control with a record gain knob.
The MPX16 can trigger audio playback, and thanks to is rear-panel USB port you can connect it as a drag and drop commander for samples on your computer, or as an SD card reader or writer. The USB connection lets you pipeline MIDI data, so you can use it to trigger your DAW or computer sequencer. In addition, with the A5 Pin MIDI input you can enable gear like keyboards, controllers and synths.
You can easily edit thanks to the free conversion utility software that lets you manage computer-based samples and move them in and out of the SD card. The small footprint that the MPX16 has means that you can take it with you or rout it to the production desk without taking a lot of space. In conclusion, the Akai MPX16 is a great asset for people seeking to enhance their musical production.
Image: Akai