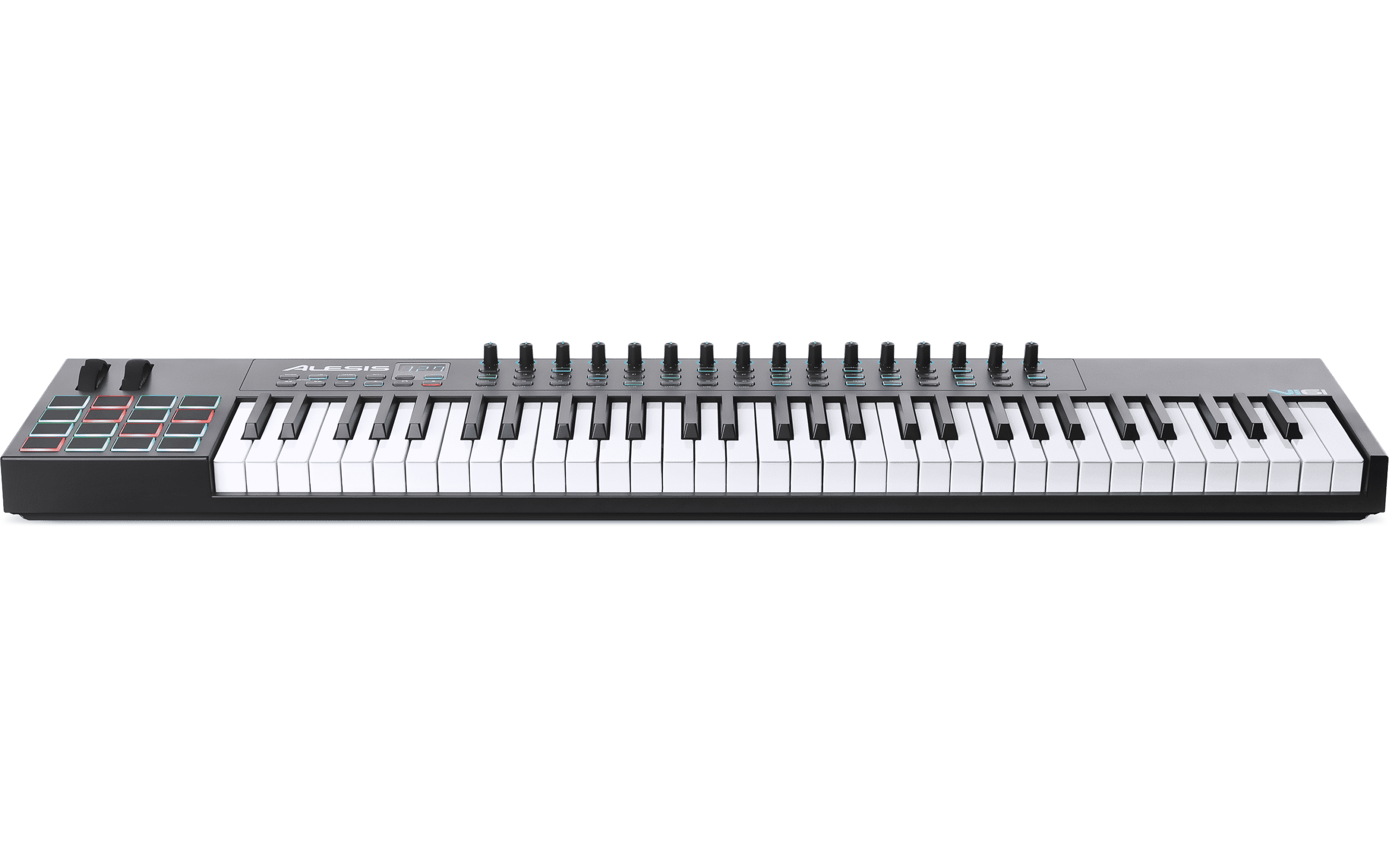 The Alesis VI61 is an advanced 61-key keyboard controller with USB and MIDI capabilities. It gives you complete hands-on control of your music production workflow and live performance. Thanks to its set of features, the VI61 is a great option to enhance you production creativity and performance.
The Alesis VI61 has everything you need
The Alesis VI61 has a pad, knobs, and buttons alongside a 61 velocity-sensitive keyboard. This keyboard is semi-weighted with aftertouch and octave selection buttons, which expands it to a full melodic range that allows it to play bass lines, melodies, and chords. The Alesis VI61 includes 16 assignable knobs and 48 assignable buttons. With these, you can map and manipulate effect plugins and your preferred virtual instruments. You can also open and close filters, trigger effects, modify the volume, move parameters. In addition, its 16 velocity-sensitive pads can launch instant clips, or play a set of drum beats, that will light up while you play thanks to its backlit and colourful visual effects. The VI61 has Pitch and Mod wheels integrated, which will definitely add expressiveness and other creative options for your production venture or live performance.
Easy to set up
The VI61 is connection ready and can effortlessly get in sync with your favourite music production software. Thanks to is USB connection and MIDI functionality you can connect it to external MIDI modules, synths and more. Its LED screen delivers great visual feedback. Additionally, practically everything is illuminated in a way that makes it easy to use even in low light. Ableton Live and XPand!2 comes bundled with this keyboard controller, allowing you to create powerful music right out of the box. Furthermore, its size and weight make the Alesis VI61 easily transportable, so you can set up your music production studio wherever you go.
In addition, the VIP3.0 VST instrument and effect collection are ready for you to upgrade. Take advantage of this update that will seamlessly integrate with both your hardware and software.
Image: Alesis