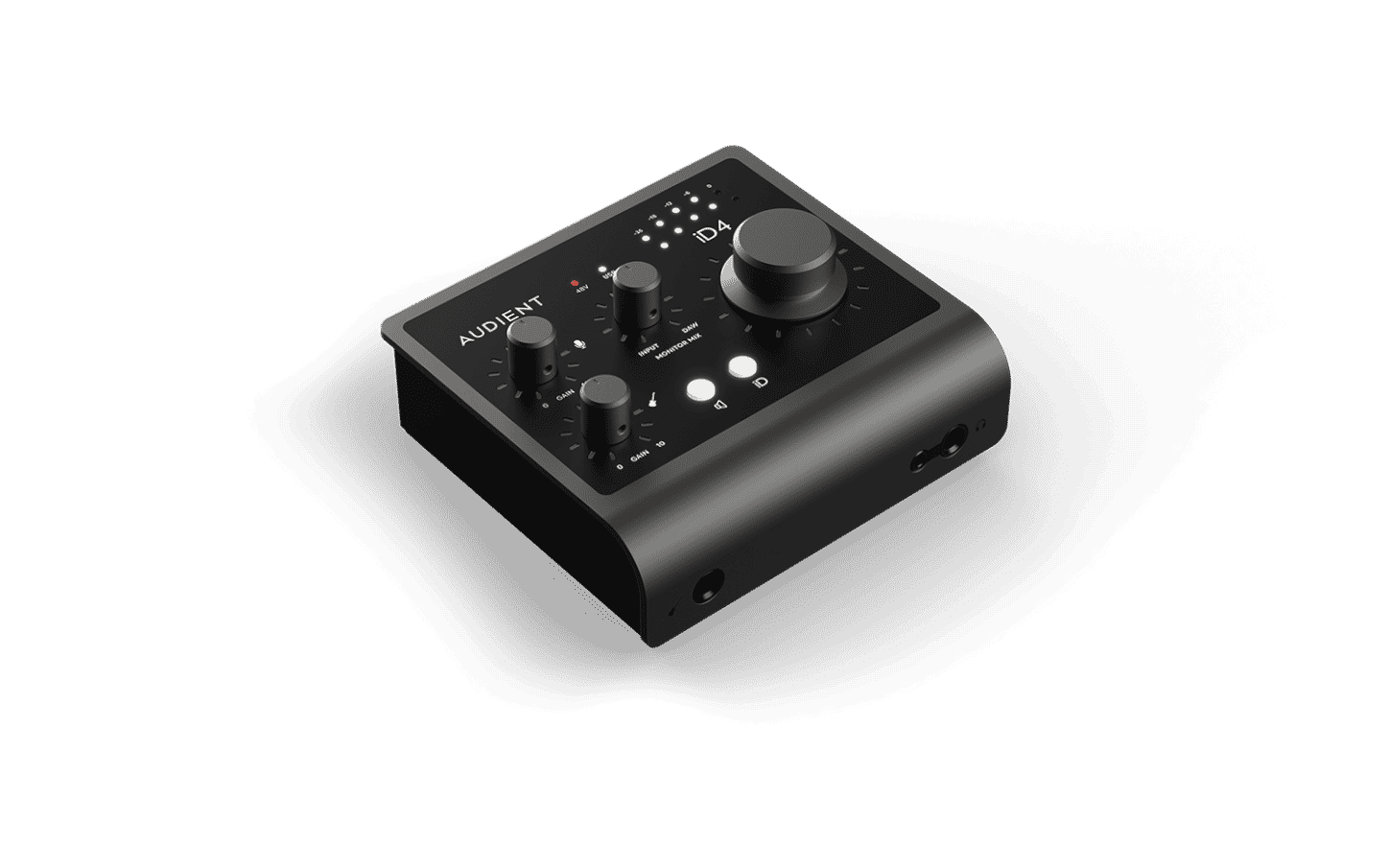 The Audient iD4 is a 2 in and 2 out audio interface designed to record with high quality, which allows it to deliver professional grade audio in a compact and modern package. The iD4 will provide you with the studio quality recordings you have been looking for in a portable and approachable way. It has a pro console Mic Preamp that delivers low noise and distortion with just a hint of classic analogue warmth. Thanks to the converters loaded in the iD4, you will be able to listen to every detail of your mix, allowing you to make better decisions and work faster and more efficiently.
The Audient iD4 has everything you need
The back panel of the Audient iD4 has a jack and a mini-jack. These are paired to a powerful headphone amp, making it great for recording sessions. On the other side of the back panel there's a plug and play JFET instrument input. This input allows you to connect the iD4 to a guitar or bass. The control panel that is located at the top of the iD4 has a volume knob which can also take on many different functions, such as quickly dialing in settings or adjusting fader. All of these settings are synced with your onscreen parameters, so you can easily keep control of your mix .
It's user-friendly, too!
The Monitor Mix allows you to find the perfect balance between your inputs and your computer audio. The iD4 is iOS compatible, which makes this interface even more attractive for the nomad music producer. You can record directly on you iOS device with the app. This makes the iD4 a great companion for capturing ideas on the move, and makes it perfect for travelling. You can connect your microphones with True Phantom power and find optimal performance. The interface is very easy to set up, as it is powered via USB, which also makes it very user-friendly. The iD4 comes bundled with a free with Cubase LE giving you the power to start recording in no time.
Image: Audient