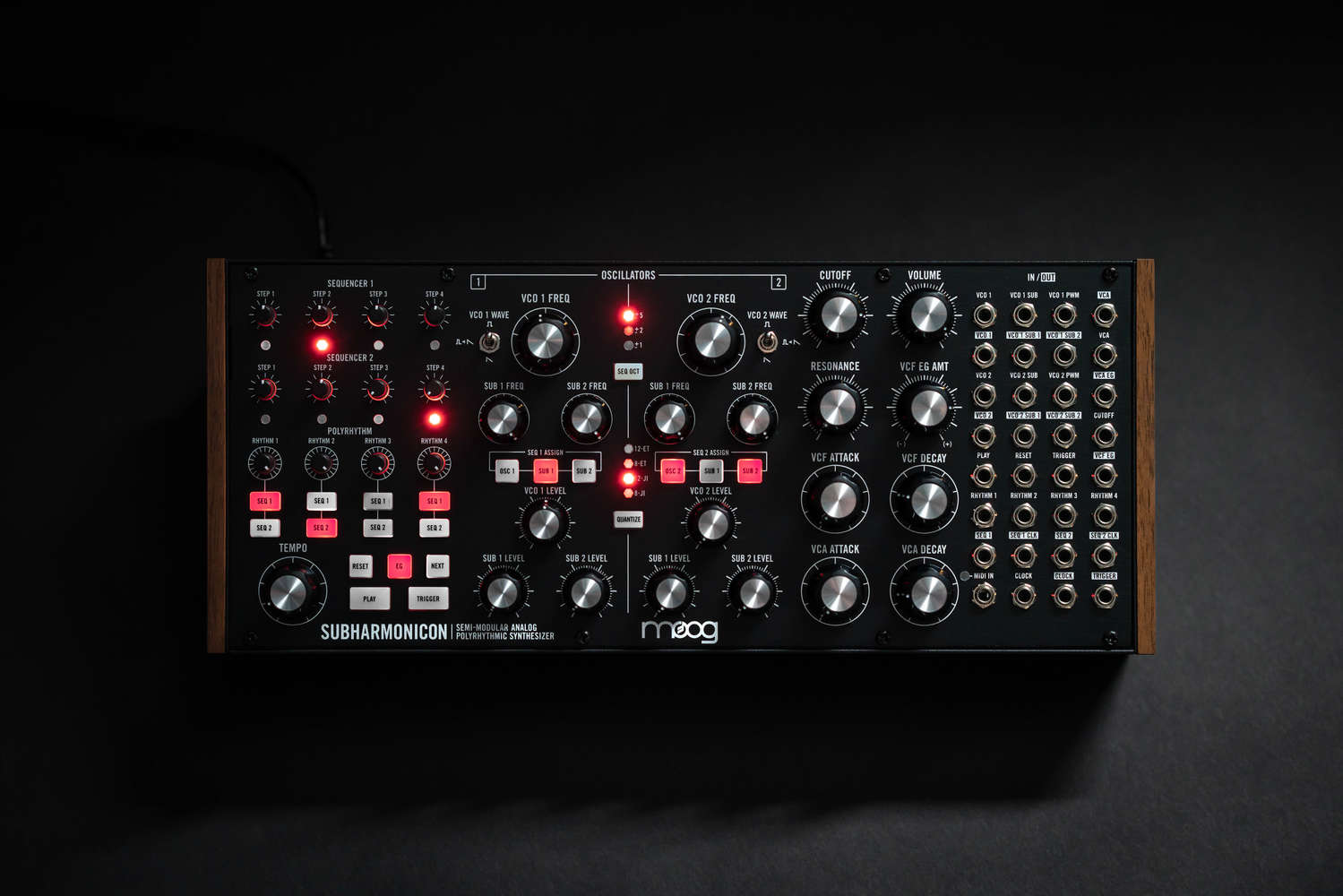 The Moog family of synthesizers is one of the most renowned and emblematic, and the Moog Subharmonicon is another great addition to Moog's catalogue of semi-modular synthesizers. The Moog Subharmonicon carries a 6 tone sound engine with a multilayered clock generator. Combined, they will let you explore the vast world of subharmonics, polyrhythms and everything in between. Moog called it the rich harmonic kaleidoscope, and we think these words perfectly synthesize this synthesizer. With it, you can create and indulge yourself in a polyrhythmic adventure with patterns from time, by crafting rich harmonic tones and subharmonic chords.
An all-in-one package
The Moog Subharmonicon is loaded with 2 analogue VCO's and 4 subharmonic oscillators, for a total of 6 vital and powerful sound production sources. You will be able to quantize and dial perfect intervals with multiple tuning systems, choosing from soft temperaments to heavy intervals. Onboard with its 4 step sequencer you can shape chords. Thanks to its sequencers being clocked by rhythm generators you can output math divisions of the master tempo. Discover and inspire yourself with dual envelope generators that pack the famous Moog ladder filter and analogue VCA. These will allow you to create dynamic articulations in all stages of creative pads and exquisite rhythms.
The Moog Subharmonicon offers a world of possibilities
With the 32 point, 3.5mm patchbay you will be able to patch the same panel, thereby doubling the Subharmonic capabilities. You can interface the Subharmonicon with Mother 32 DFAM and other external Auroracks that accept MIDI type a. You can connect a standalone synthesizer or just instal into a Eurorack system. The Moog Subharmonicon is such a versatile analogue system, use it wisely and immerse yourself in a polyrhythmic sound adventure that can last forever. Its versatile sounds travel from light creamy synthetic sound to aggressive parallax sounds. Perfect for ambient producers and special musical projects. The Moog Subharmonicon is a perfect tool for adding progressive and evolving textures to songs.
Image: Moog