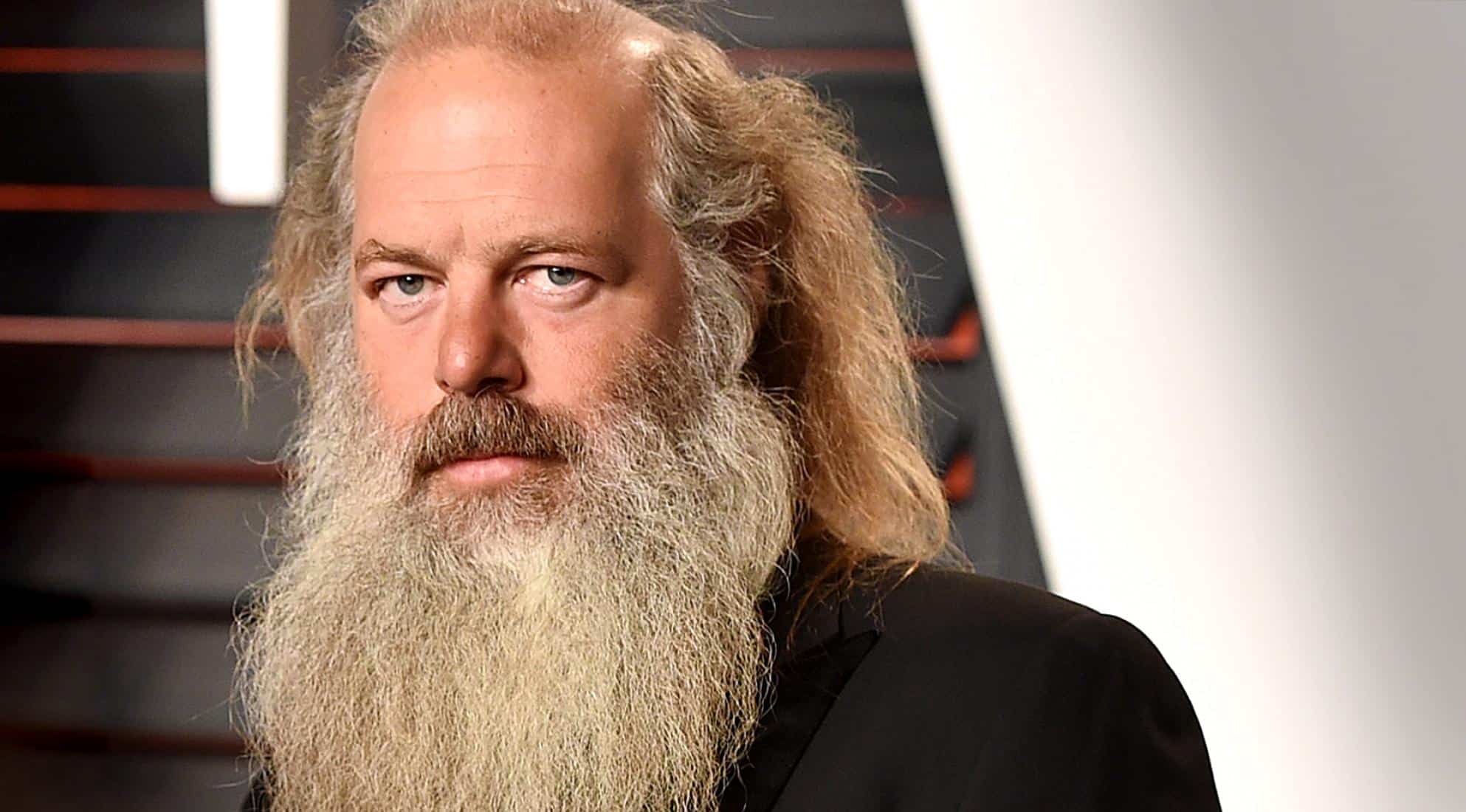 Frederick Jay "Rick" Rubin is an American record and music producer. Born on March 10, 1963, he is former co-president of Columbia Record. Along with Russell Simmons, he is the co-founder of Def Jam Recordings. With the Beastie Boys, LL Cool J, Public Enemy, Geto Boys, and Run-DMC, Rubin help to make what is hip hop music today. Back in 2007, people called him "the most important producer of the last 20 years." In addition, he also appeared on Times magazine as one of the most influential people in the world.
Rick Rubin: Early Life
In his early life, growing up in Lido Beach, NY, and attending the Long Beach High School, he befriended the school's audiovisual department director Steve Freeman. Freeman gave him some lessons in guitar playing and songwriting. Later, Rubin played in a band with childhood friends. They performed at a school show for town friends until a teacher helped him create a punk band called The Pricks. Their biggest claim to fame was when people throw them off of stage after a couple of songs, brawling with the audience. And this audience were friends of the band, who someone instructed to start a confrontation to make a buzz. Then Rubin's father, Mickey, travelled from his home town to Manhattan wearing his Long Beach auxiliary police uniform as he attempted to "shut down" the show.
Def Jam Records
Rubin founded Def Jam Records using the school's four-track recorder. Afterwards, he moved on to record Hose, an Artcore and garage punk band. This was the first recording released with the Def Jam logo; it had a heavy influence by famous San Francisco's Flipper band. Hose played in and around NYC punk scene with seminal hardcore bands. Examples are Meat Puppets, Husker Du, Circle Jerks, and Minor Threat. In addition, they became friends with the frontman and Dischord Records owner Ian MacKaye. After some time in 1984, Rubin's passion evolved towards the NYC Hip Hop scene and the band broke up.
Rick Rubin and Hip Hop
Rubin's Hip Hop introduction began by befriending Zulu Nation's Dj Jazzy Jay. Together they produced "Its Yours" for rapper T La Rock. Onwards, they released it in their independent label Def Jam Records. Arthur Baker, an American record producer also known for his work with hip hop, helped them to distribute the record worldwide with Streetwise Records. Similarly, Jazzy Jay introduced Rubin to Russell Simons, a concert promoter and artist manager in the Negril club. Rubin explained to Russell that he needed help getting his label off the ground. For this reason, they both edged out Jazzy Jay and, thus, they founded the official Def Jam Records Label. And all while Rubin was still attending New York University.
"I Need a Beat" and Other Forms of Success
Their first record released was LL Cool J's "I Need a Beat." At this time, Rubin was out on the look to find out more talented hop hop acts outside the Bronx, in Brooklyn, and Harlem. These included rappers from Queens, Staten Island, and Long Island, which eventually led to Def Jam's signing of Public Enemy. Hip Hop group consisted on Chuck D and DJ Lord, a band formed on Long Island: a well-known band for their heavy political lyrics and frustration messages. Rubin was instrumental in pointing the members of the Beastie Boys away from their punk roots and into rap, which resulted in the exit of Kate Schellenbach from the group.
In 1985, the "Rock Hard" / "Party's Gettin' Rough" / "Beastie Groove" EP, by the Beastie Boys, came out. With the great success of Robin's production work with breakthrough act, Run-DMC, they had productions now categorized by occasionally fusing rock and hip hop. Moreover, Rubin tapped video producers Adam Dubin and Ric Menello to co-direct the music videos for Beatie Boys' "(You Gotta) Fight for Your Right (To Party!)" and "No Sleep till Brooklyn." Thus, this effectively launched the band's mainstream hip hop careers.
Sue Cummings, an editor at Spin Magazine, had an idea: to have Run-DMC and Aerosmith collaborate on a cover of Aerosmith's "Walk This Way". This special production took place in 1986. People often credit it with both introducing rap hard rock to mainstream ears and also to the revitalization of Aerosmith's career. Also, Rubin worked with Aerosmith on demos for their forthcoming album. However, nothing substantial came out of the studio—only rough jams. In the same year, Rubin began his long musical partnership with Slayer, producing Reign in Blood, considered a classic masterpiece of the heavy metal genre.
Rubin's Trademark
Another trademark and classic work of Rubin is Electric, the third album by The Cult in 1987. Later, Rubin worked with The Cult for the single "The Witch" in 1992. In addition, people also credit Rubin as a music supervisor in the movie Less Than Zero and the production of its soundtrack. Similarly, Krush Groove, a motion picture impaired in the early days of Simmon and Rubin, portrayed a character based on himself. Furthermore, he directed and co-wrote, with Ric Menello, a second Run-DMC film called Tougher than Leather. They considered publishing it at the same time as their fourth studio album also named like the movie.
(Def) American Recordings
Rubin and Simmons went their separate ways in 1998 after a fall out with Lyor Cohen, Def Jam's president. He left to Los Angeles to star Def American Records. In contrast, Simmons kept Def Jam in New York. Once in LA, Rubin signed several rock and heavy metal bands. For example, there were Danzig, The Four Horsemen, and Wolfsbane, as well as the alternative rock band The Jesus and Mary Chain. This time Rubin's focus was rock and metal. Yet, he never left rap aside. At some point, he signed the Geto Boys and continued to work with Public Enemy, LL Cook J, and Run-DMC, among many more.
Def American Recordings was the original name of his new label. However, in 1993, Rubin found out that the word "def" got into the standardized dictionary—and that it held an actual funeral for the word held by Reverend Al Sharpton. Al Sharpton is an American civil rights activist, baptist minister, talk show host, and politician. After this, Def American Recordings became American Recordings. In regard to this, Rubin stated: "When advertisers and the fashion world co-opted the image of hippies, a group of the original hippies in San Francisco literally buried the image of the hippie. When 'def' went from street lingo to mainstream, it defeated its purpose."
Rick Rubin and American Recordings
American Recordings started off wit a big project with Johnny Cash in 1994. They produced a record which included six core songs and new material. This album helped revive Cash's carrier given because it was a critical and commercial success. Thus, they repeated this formula for five more of Cash's albums: Unchained, Solitary Man, The Man Comes Around (the last album released before Cash's death), A Hundred Highways, and Ain't No Grave. Accordingly, The Man Comes Around earned a Grammy for Best Male Country Vocal Performance ("Give My Love to Rose") in 2003. Similarly, it got a nomination for Best Country Collaboration with Vocals ("Bridge over Troubled Water") with Fiona Apple.
Rick Rubin introduced Cash to Nine Inch Nails. Therefore, the resulting cover version of it on The Man Comes Around would become a defining song of Cash's later years. Moreover, Rubin also produced a number of records with other artists. Arguably, his biggest success as a producer came from working with the Red Hot Chili Peppers, with whom Rubin produced six studio albums from 1991 – 2011. For example, there was Blood Sugar Sex Magik, which launched the band to mainstream success thanks to the hit singles "Give it Away" and "Under the Bridge." In addition, the six albums with the Chili Peppers spawned 12 number-one singles on the Billboard Alternative Songs chart, a record the band holds as of 2015, and various awards. For instance, these include 16 Grammy Nominations with six wins.
Rick Rubin: a Long List of Productions
On 2006, producer Rick Rubin won the Producer of the Year Grammy Award. At the same time, experts also nominated Stadium Arcadium, by the Red Hot Chili Peppers, for Album of the Year. The band has sold over 80 million albums worldwide—most of them through sales of the Rubin-produced albums. Furthermore, Rubin used Chili Pepper's bandmates for other projects. Regardless, after 24 years of working with Rubin, in 2014 the band announced that they would produce their next album, their eleventh one, with another producer.
Rubin also produced Wandering Spirit, there third solo album by Mick Jagger. It released in 1993 and was his only solo album of the 90's. In 1994, he produced and signed to his label Lords of Acid's with their second studio album. Also, he produced Tom Petty's Wildflowers, AC/DC's 1995 Ballbreaker, Donovan's Sutras (1996), and Metallica's Death Magnetic (2008). Further, in 2005, Rubin executive-produced Shakira's two-album project Fijación oral Vol. 1 and Oral Fixation Vol. 2. He was to appear on the Talib Kweli's album Eardrum, Clipse's Til the Casket Drops, and Lil Jon's Crunk Rock. Rubin also produced the Jay-Z track "99 Problems" and then featured in the song's music video. In addition, he worked with Eminem on the song and music video "Berzerk". Plus, he produced Black Sabbath's 2013 album 13 and Billy Corgan's comeback solo album Ogilala.
The Rebirth of American Recordings
Rubin became the co-head of Columbia Records in May 2007. During his Columbia years, he produced Linkin Park's Minutes to Midnight with Mike Shinoda. Later, Rubin and Shinoda co-produced other band albums like A Thousand Suns and Living Things. On the same year, he won the Grammy Award for Producer of the Year, Non-Classical for his great work with the Dixie Chicks, Red Hot Chilli Peppers, U2, Green Day, and Johnny Cash. Moreover, he won the award again in 2009 for his production work with Metallica, Neil Diamond, Ours, Jakob Dylan, and Weezer.
Yet, in 2012 Rubin left Columbia Records. He did so and revived American Recordings through a deal with Republic Records. The first released album under this new deal was ZZ Top's La Futura and The Avett Brothers' The Carpenter. Similarly, that same year he attempted to produce a cover album with Crosby, Stills, and Nash. However, the bread sessions were irritable and not a great experience according to the latter.
Classic Rick Rubin
Eliminating basic production elements such as string sections, backup vocals, and the classic reverb has been Rick Rubin's trademark as a producer. Called the "Stripped-Down" sound, Rubin preferred to have naked vocals and bare instruments. However, in the 2000s, his style has been know to include such elements. Regarding his production methods, Dan Charnas, a music journalist who worked as vicepresident of A&R and marketing at Rubin's American Recordings label in the 90s, said: "He's fantastic with sound and arrangements, and he's tremendous with artists. They love him. He shows them how to make it better, and he gets more honest and exciting performances out of people than anyone."
Similarly, Natalie Maines of the Dixie Chicks has praised his productions methods. She said: "He has the ability and the patience to let music be discovered, not manufactured. Come to think of it, maybe he is a guru." In this same fashion, Dr. Dre has stated that Rubin is, "hands down, the dopest producer ever that anyone would ever want to be, ever."
Conclusion: on Criticism
Over the years Rubin has also had a little criticism by other producers and artists, such as Matt Bellamy, the lead singer of Muse. Bellamy criticized Rubin while accepting the award for UK single of the year. He stated that the band would "like to thank Rick Rubin for teaching us how not to produce." Also, Slipknot's lead singer Corey Taylor said he met Rubin only for times during the entire recording process of Vol. 3 The Subliminal Verses. Taylor stated that he barley came into the studio. As another example, Taylor and his bandmates mentioned that they were paying horrendous amounts of money, so he should have been there. Then Taylor also added that "The Rick Rubin of today is a … shadow of the Rick Rubin that he was. He is overrated, he is overpaid, and I will never work with him again."
Great albums have been key for contributing to a musical phenomenon known as the Loudness War. Since 1999, listeners have criticized Rubin for this phenomenon. In it, the dynamic range of recorded music is compressed and sometimes clipped to increase the general loudness of albums. Some of the albums are Californication, by the Red Hot Chili Peppers, Death Magnetic, by Metallica, and 13 by Black Sabbath.
Image: Grammy.com