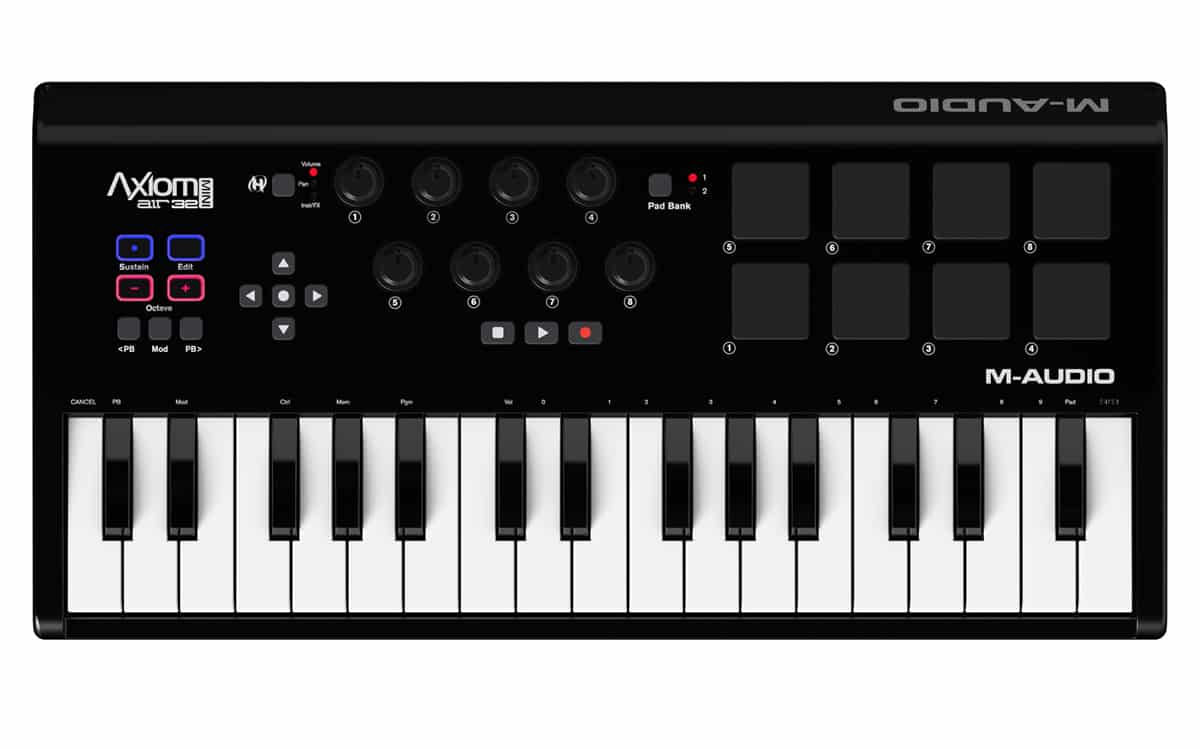 Take control with the M-Audio Axiom AIR Mini 32 and instantly map the control surface with your favourite DAW. You can also set up right from the keyboard; in other words, it's not necessary to edit your software. On top of that, you can save your favorite presets onto the 10 location memory to recall any time you need them. Moreover, you can add dedicated transport and track buttons.
Overall, the Axiom AIR Mini 32 is perfect for on-the-go music producers. Its compact design serves eight responsive pads and 32 velocity sensing mini keys. These aid you to express yourself wildly and even perform live with it.
Axiom AIR Mini 32 by M-Audio: Features
With the Axiom Air Mini 32 you can choose velocity curves to match your playing style, pitch, and bend. For example, add modulation and sustain buttons for some great performance capabilities. Moreover, given that it's a small keyboard controller, you can shift keys that will provide you access to the entire MIDI note range. Plus, with its virtual instruments capabilities, you can enhance your creativity by quickly finding sounds that are based on several instrument types, timbre, or articulation on your VST library.
Included with this is Pro Tools First Download audio recording software. In turn, this commodity helps you inspire and letting you create, record, and share your work across the world. With it, you will have 1 GB of free cloud-based storage. As a result, you'll be able to collaborate in several projects or load them on any computer connected to the internet. All in all, these elements make this device even more versatile while traveling.
On-the-go
M-Audio Axiom AIR Mini 32 is a great choice if you're on the movie music producer or performer. However, it will also fit your home studio perfectly. In short, this MIDI Keyboard is user-friendly and simple to set up and use. It has seamless integration with a new or existing setup. Additionally, it includes a platform that will let you perform and be creative right away.
Image: M-Audio