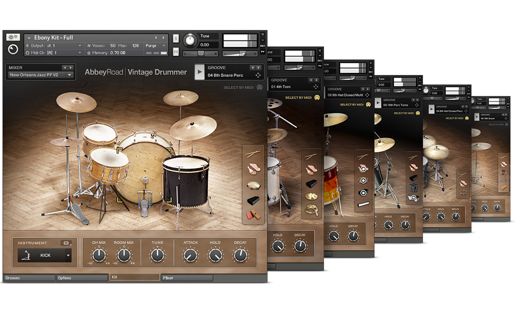 Native Instruments, in collaboration with the iconic symbol in the music industries, Abbey Road, have created an amazing collection of drum sounds: the Abbey Road Drummer Collection. Abbey Road Recording Studio has been the landmark of countless recordings by a famous artist from around the world. Examples might seem obvious; to name a few, there are The Beatles, U2, Radio Head, and Kanye West, just to name a few. With this drummer collection, you have the chance to enhance your music productions with epic percussion samples and grooves. More specifically, experts recorded these samples and grooves with vintage gear and timeless techniques. It was a dream and it then became a reality.
Abbey Road Drummer Collection: the Kits
This rare opportunity can be yours for a couple of hundred dollars. Sincerely, we think it's absolutely worth it. In this essential drum sound package, you'll get to virtually holding the sticks and make your mark with six iconic kits. Particularly, these swing from the early vintage sound of the 30s and all the way to the crispy sound of today's music. In short, you'll travel through time with these kits. Indulge yourself with this sweet collection of a decade drummer paradise.
Firstly, the vintage drummer has captured the distinctive golden age tone of the 30s and 40s to give your tracks some class. Secondly, the 50s drummer will give you an unmistakable flair of the early days of rock and roll, rhythm and blues, contra and jazz. Thirdly, the 60s drummer has a very characteristic sound. And this is thanks to the meticulously recording using authentic 60s mixing setups, mics, and drum kits. In fourth place, you can grab the 70s drummer pack with the famous Tequila Sunrise Ludwig Vistalite like you've never heard it before.
Moreover, the 80s drummer will give you the glitz and glam combination with the supreme reverb of that time: from edgy new wave to powerful metal sounds. Lastly, the modern one has the best of the best recorded and delivered by the best engineers. As a result, you'll get premium powerful and versatile drums.
Image: Native Instruments