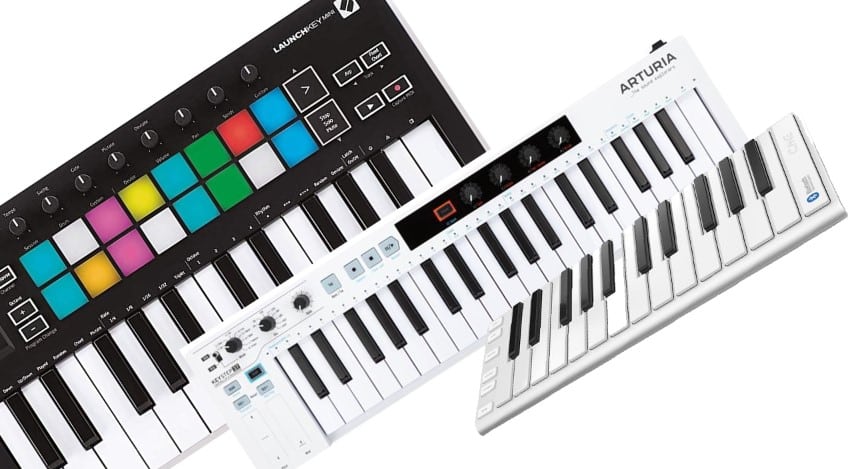 This entry contains the three best options for some great MIDI keyboard controllers under 200 dls. Think of it: these days it seems all you need to make music is a laptop and a DAW. However, when you're deep into your music production journey, you might find that adding a MIDI controller to the mix will boost your creativity and greatly influence your workflow.
1. Novation Lounchkey Mini Mk3
First up is the Novation Lounchkey Mini Mk3. This little fellow is Ableton Live-ready, but you can easily map it to your preferred DAW. Moreover, you can get pretty experimental thanks to its 25 keys with the Arp and Fixed Chords mode. This is a great choice if you have limited space in your studio. Similarly, it's a fabulous option if you're looking for a controller you can carry around and take to your live performances.
2. MIDI Keyboard Controllers Under 200: Keystep 37
Secondly, the Keystep 37 is Arturia's newest addition. It's built with three octaves of fast velocity-sensitive keys. In turn, these pair with an impressive amount of MIDI controls, outputs for synths, and a little built-in screen. This bad boy will let you get creative with a 64-step polyphonic sequencer which enhances eight different modes to trigger chords. Plus, this unit is USB MIDI compliant. As a result, setting up is easy with any music-making platforms.
3. XKey 25
Thirdly, CME XKey 25 looks like an Apple product. Its robust aluminium lightweight design makes it a great choice for the commuter producer. In other words, this enables you to easily take it anywhere. It is compatible with almost all DAWs and you can easily hook it up with its USB cable. You could also get the wireless version for approximately the double of its base price. The advantage of this is that it becomes a MIDI keyboard you can pack and take anywhere.