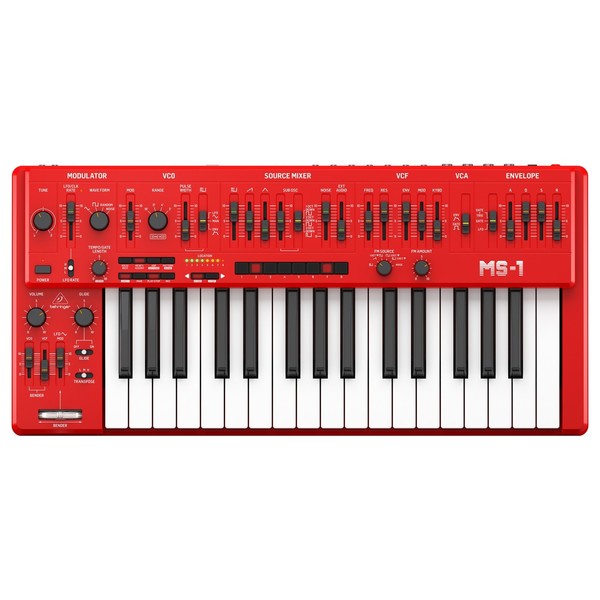 Today we're going to talk about an analog synthesizer with 32 full-size keys by Behringer called the MS-1-RD. Originally a German manufacturer of music products by Uli Behringer, a Swiss engineer, Behringer is now a multinational company that Music Tribe owns. It manufactures its products in China. This keyboard controller is a real-time machine that empowers the sound over the eras. In addition, it's an affordable homage to great synths. For instance, it features a 32 step sequencer, a live performance kit. and an arpeggiator. So, as you can see, it's superversatile. Plus, it allows you to mix any sound from the past and presents with ease.
MS-1-RD: Features
The MS-1-RD has 32 semi-weighted keys. As a result, playing this medium analogue synth will come easy. In other word's, it's ready to express your musical character. It has flexible VCF and VCA filter and an authentic 3340 VCO with four mixable waveforms to embrace from. It includes the original circuitry from legendary designs, just as the engineers designed it. With it you can recreate classic sounds to perform or mix in your personal parameters to imprint future sounds. Moreover, it has a great capability to shape sounds from super bass and lead tones and all the way to great-sounding effects. The inspiration truly comes from the 80s and 90s synthesizer wave from progressive rock to synth-pop.
When you're ready to get your stuff and go centerstage, the MS-1-RD has that secured as well! Just connect the included guitar strap and handgrip (with pitch twist wheel and a pitch balance trigger) and take your performance to another level. Why should only vocalists and guitar players get all the spotlight?—make it yours. Additionally, it has 57 knobs, faders, and switches, all exposed out in a highly-intuitive arrange (which translates to bliss in your music production). Lastly, connections include MIDI I/O and Thru over USB/MIDI DIN; Velocity Out; CV; Gate; External Clock In; VCF CV In; Hold; External Audio; Phones; and main output.
Image: Gear4Music