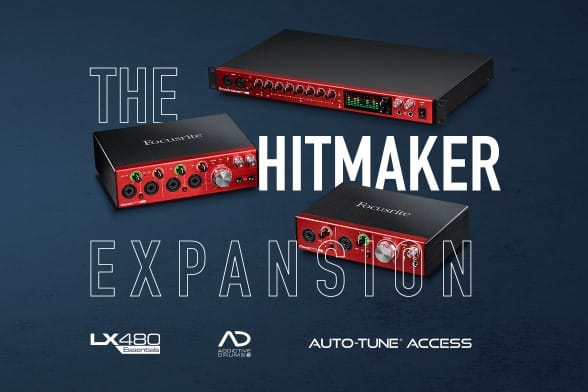 The RedNet R1 is a desktop unit top panel dominated by two large hi-res color displays. This offers control over other Red-series interfaces. Plus, it has a huge monitoring potential. For example, it includes the ability to control surround and Atmos speaker setups. Other configurations and setups for the RedNet R1 are setting A/B between different speaker setups. Moreover, it can provide downmix memories for instant checking on a range of surround/Atmos.
Where is this Coming From?
Focusrite has made two exciting announcements. On the one hand, the first has to do with their super acclaimed Clarett series of USB audio interfaces. On the other, the second is an expansion of their pro RedNet network audio range—where the RedNet R1 comes in. For a limited time, anyone who buys a Clarett USB audio interface or Clarett OctoPre ADAT expander will get a huge bundle of software. Already packed in the Clarett series is a generous supply of plugins from Brainworx, Focusrite, and Softube. Oh—and it also includes a copy of Ableton Live Lite. The new hitmaker expansion adds serious processing power to the package.
In addition, it has Antares Auto-Tune Access, which is an intuitive plugin to access the world's best known pitch correction algorithm. You will also find Relab LX-480 Essentials, a reverb plugin that faithfully recreates Lexicon's classic 1980s rack unit: the 480L. Last but not least, it offers the XLN Audio Addictive Keys Focustrite Special, a selection of drum hits and grooves played by some of the best in the world. This incredible hitmaker expansion will come free with any Clarett USB Interfacer or ADAT expander purchased before the end of December 2020.
RedNet and the RedLine
The Red 8Line is a 1U rack that provides a number of different audio I/O. Examples are instrument inputs and headphone outs. Plus, you can connect it to both Mac and Windows computers with an Avid Digilink, Thunderbolt, or Dante protocols. There have also been some updates on their A16R and their D16% interfaces. And they provide 16 I/O of audio connectivity and can pipe those audio streams to any other device on the same network.