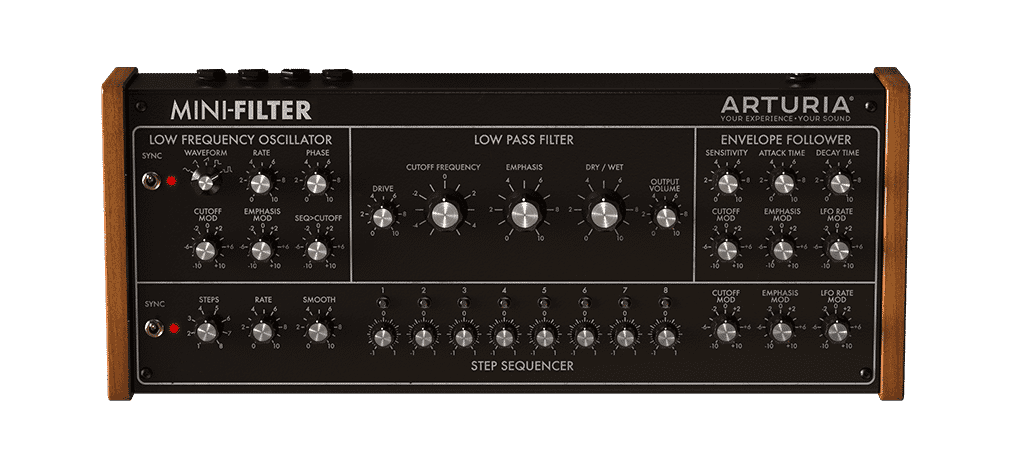 Filter MINI from Arturia is a software plug-in recreation of the original hardware of the famous Dr Moog's low-pass ladder filter.This plug-in has been perfectly recreated and has new fantastic and exciting features that are ready for modern music producers and sound designers. You can add a warmth and smooth curation to your music productions with this amazing software plug-in. For example, use its powerful modulation section, which has a step sequencer, an LFO and an envelope follower. Also, onboard you will find a patch manager and a superb presets library to inspire your creativity.
Filter MINI Is Your New Best Friend to Produce or Compose
Filter MINI will become your best mate whether you are a producer, a DJ, guitarist or singer, it will definitely make you sound warm and will shape your tone. If you are a drummer you can add filter sequences to transform your whole mix. The original analogue sound will be there to accompany you through the process, but make sure to use the contemporary features that Arturia included in Filter MINI such as cutting edge aids that will make your sound awesome and kick in a creative audio processing.
Produce Today with the Legendary Monosynth from the 70s
The key components loaded into Filter MINI are a Low-Frequency Oscillator, a Low Pass Filter, a Step Sequencer, and an Envelope Follower. Filter MINI may imply small from its name, but it is definitely a tool that must be in every musician or producer's plug-in library. It is definitely a must-have. Speed up your production process and improve your overall workflow with this sound shaping and "historical" plug-in, recreation of the famous 24dB per octave ladder filter that has been a legendary Monosynth from the '70s
Image: Arturia