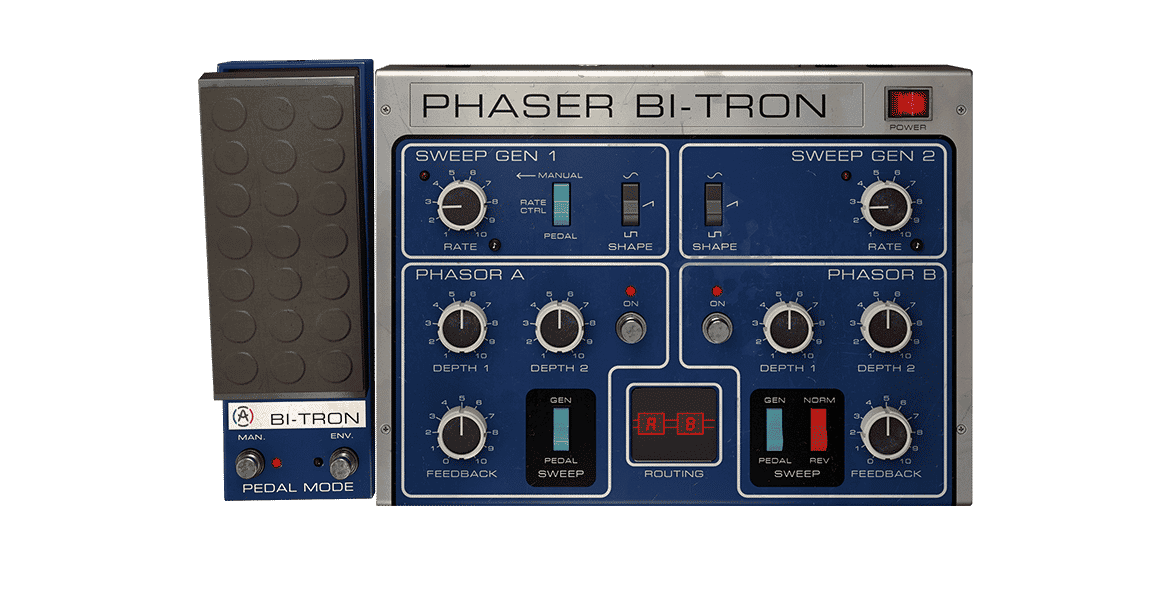 With the Phaser Bi-Tron, Arturia has rebuilt the humble and famous pedal phaser, one of the first available guitar effect on the market at that time. The sound that the pedal phaser emitted was recognizable by many due to its modulation, all-pass filters, and simple structure. Adding to this context, the Mu-Tron Bi-Phase was also the fist dual-phase modulator. Greats bands such as the Smashing Pumpinks, Prince, and Kraftwerk used it! Now, thanks to Arturia's true analog emulation technology, this prized handmade effector, with such an in-detail plug, the analog dream is ready for your virtual music production studio. Welcome, Phaser Bi-Tron!
The Essentials
The Phaser Bi-Tron is much more than just a phaser: it is a concept. This plugin is the result of the original hardware's inspiration. In other words, it is the consequence of years of multiplied, expanded, and pushed-to-new limits analog magic. The Phaser Bi-Tron features two sweep generations that have two independent LFOs with switching waveforms and tempo sync. On the one hand, the dual 12-stage phasor circuits can play with independent feedback. On the other, modulations sources control, in combination with the manual pedal control, get you some great expression features. These can also manipulate LFO rates and the Phase circuitry.
Phaser Bi-Tron's Results
In the Phaser Bi-Tron you can choose your route via mono or stereo series or in parallel. By doing so, you obtain an impressive modulation palette. This palette gives you such a distinctive sonic character and style! You get a selection of 37 presents that enable you to access to phaser heaven instantly.
Add some colorful modulation to your music production and tracks with this software. As an FYI, you can use it in all major DAWS. If you are looking form some character sounds that are warm and analog-like with some stereo richness, this effects has to be part of your setup or mix.
Image: Arturia