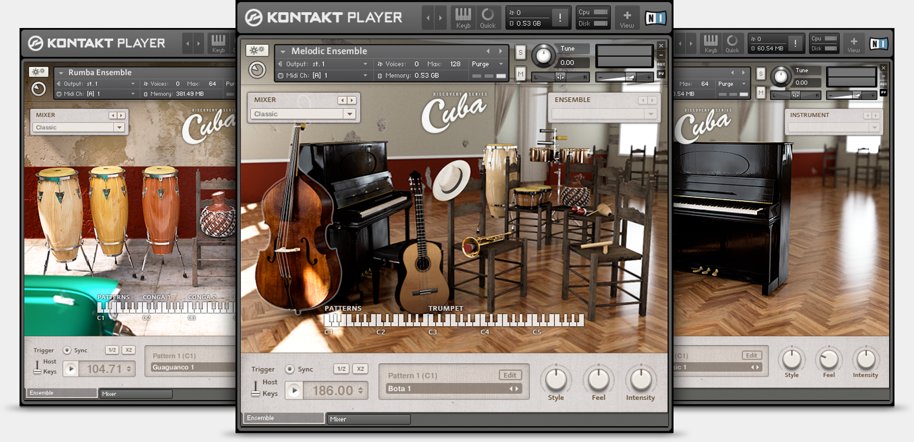 Native Instruments has brought to us the majestic discovery series Cuba which has some really amazing and authentic rhythms and harmonies from this good old island. With this incredible add-on instrument plugin you'll get as real is it can get to the real thing. Similarly, with authentic afro Cuban sound that is as rich and warm as if you were there yourself. In brief, with a vast array of instruments that can adapt to your music production creations, Cuba is highly flexible and evokes a Cuban flair of contemporary productions.
Cuba: Features
With the sound of sunshine in your home studio, you'll discover Cuba's musical warmth and heritage from the heart and soul all the way to the influenced musical journey that has accompanied us through time. The island's musical heritage has spanned through pop music, house, indie, techno, and more. With their super grooves and rhythms, you can apply to almost any context in your music creations. In other words, you can rest assured that experts have recorded the captured sounds you'll be using beautifully.
Furthermore, this software plugin packs percussive and melodic ensembles as well as some serious rhythm and harmonic progressions to spark your music. In Cuba, you'll also find a built-in sequencer, a mixer, and some effects to spice up your tracks with this Latin masterpiece. Inside you'll find a selection of common traditional Cuban instruments carefully integrated into ensembles. As another example, Traditional enables for a nice rumba and son or salsa. Similarly, more contemporary dance and pop grooves and patters will be also available to use with your creations.
Some of the instruments included in Cuba, by Native Instruments, are Congas, Cajon, Trumpet, Bongos, and more. With its integrated sequencer, you can instantly adjust patterns and grooves out of the library and even adjust their tempo without loosing quality!
Image: Native Instruments