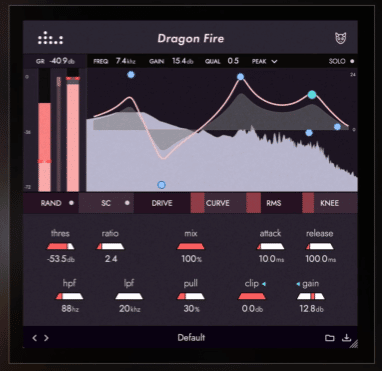 Dragon Fire, by Denise Audio, is a software plugin that will enable you to use tonal compression with a particular shape technology to color and tame your audio dynamics. Undoubtedly, it is an innovative product that grants you an unseen control on your music. A vast array of features is at your disposition in this plugin, which will let you fine-tune its sound. These you can use depending on what type of sound you are after. In short, whether it is a vintage sound or perhaps one that is clean, Dragon Fire has your back!
Main Features
Dragon Fire has several features inherited from its Denise Audio family. For example, there is the push-pull technology, which you can find in God Mode. (God Mode is a faithful tape-simulation which operates in a similar way as an EQ). Similarly, it follows the logic of sculpting your own sounds.
A Family Matter: Denise Audio
Clearly, the practical and easy to use interface is instantly recognizable from other Denise plugins. For instance, in the main interface you can visualize a display graph with the audio signal. In addition, a couple of sliders below will give you the chance to manipulate sound. Finally, at the bottom of the interface, there are more parameters that will enable you to tweak your sound.
Furthermore, Dragon Fire comes with various presets for a variety of uses. As an example, some of them are specific for bass, vocals, drums, or guitars.
Dragon Fire, The One (Compressor)
With the frequency node you can select the amount of compression you want to apply to a specific frequency band. With Denise's shape technology, you can adjust RMS to find a soft spot. You can also interval from a fast and slow releases to control the global saturation potentially applied. The Dragon Fire also features a transparent clipper function to add at the end for signal chain. Similarly useful, a helping hand option permits the compressor to enter single-band mode.
As Denise Audio itself states, after Dragon Fire there is no need for any other only compressor.
Image: Denise Audio