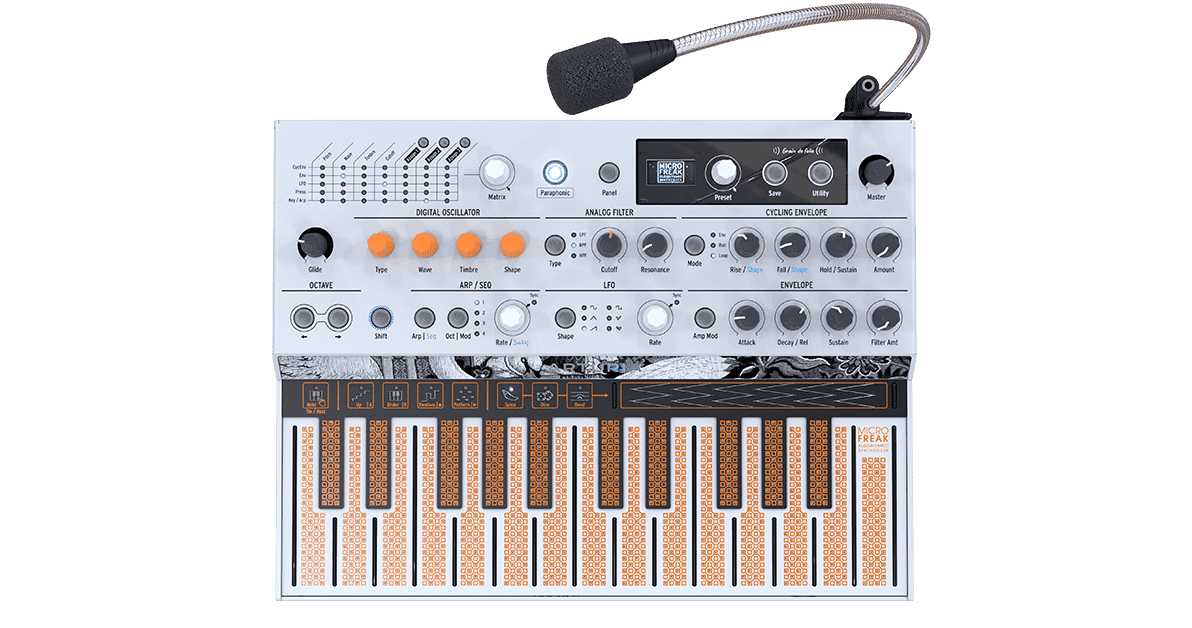 The Arturia MicroFreak Vocoder Edition is an absolute blast to the past and future. Now merged with a 16 band vocoder and mic, the MicroFreak got an upgrade. Plus, it's got a limited edition finish with some nice swan graphics. With its real-time voicing controls you can add extra expression and creativity to your live performance or music production journey. As mentioned before, this is a limited edition—but, quoting Arturia, it's "limitless madness."
Moreover, it's an accurate replication of the human voice with its 16 frequency bands. In addition, the gooseneck mic will let you in fast to the deep world of vocoding. Its engine has 16 presets to sequence with coal melodies and modulate voice parameters with its rich LFO.
Arturia MicroFreak Vocoder Edition: Features
Do you want to get more experimental? Then, with the Arturia MicroFreak Vocoder Edition, process external instruments and sounds. Furthermore, connect them through the headphone input via 3.5mm TRRS and filter them through the vocoder. As a result, you'll obtain some crazy and unique sounds. It's interesting to know that, if you already own a MicroFreak, you can download and update to unlock the Vocoder Engine, its presents, and, obviously, TRRS connectivity. With this synthesizer you can now think and imagine yourself singing along digital textures. Also, picture yourself adding paraphonic harmonies and speaking through modulated sequences. If these sound appealing, then this hardware is for you.
Additionally, the headphone socket is versatile. With it you can easily connect the gooseneck microphone. Plus, the fitting allows you to connect a set of headphones at the same time. You'll be able to adjust your preferred gain and noise gate setting with the utility menu. With its human-like voice, which is rich and complex, the synthesizer will respond to you accurately. If you're ready to get creative, use the vocoder features like its waveforms, timbres, and shape knobs to adjust the bands frequency with a couple of twists.
Image: Arturia