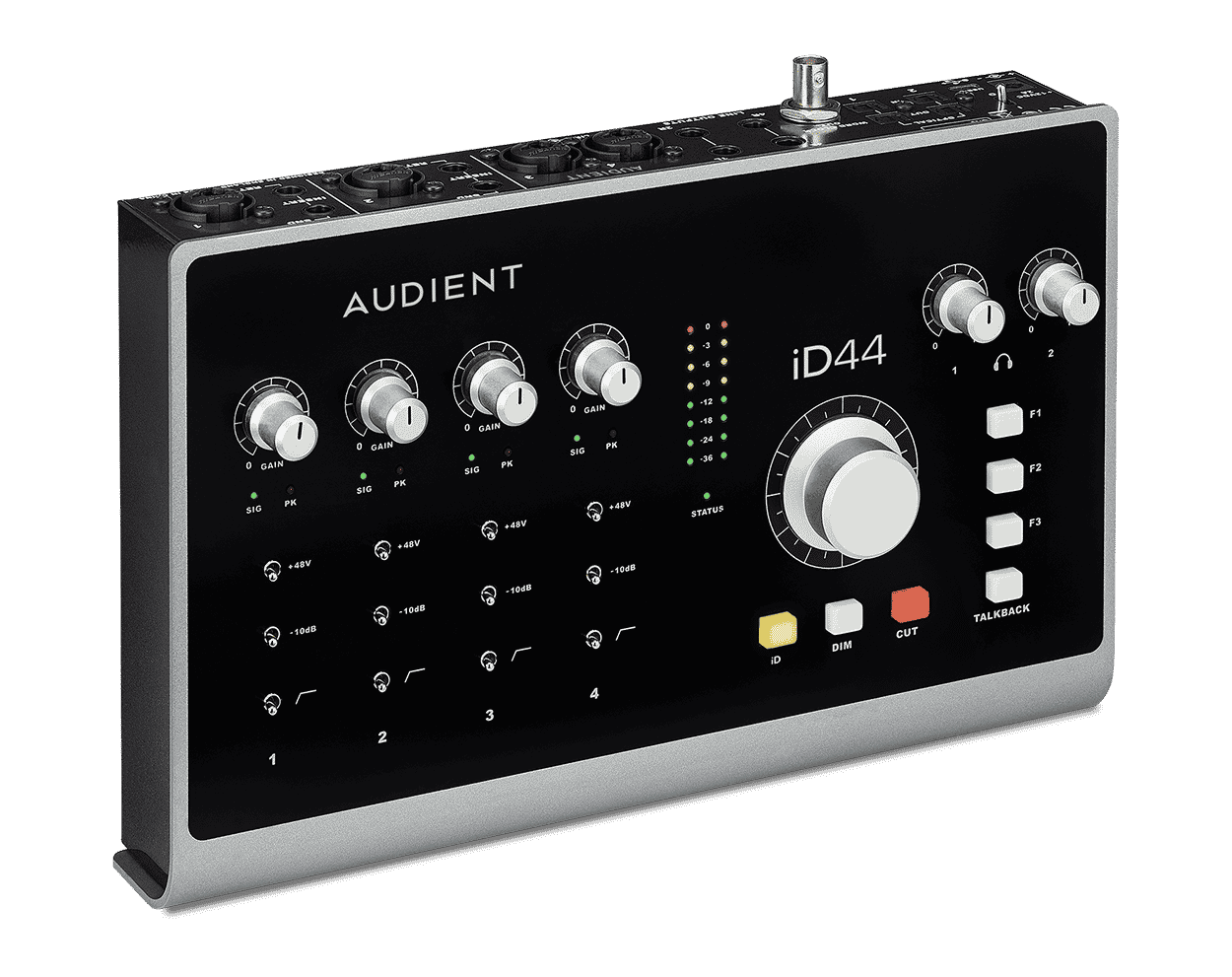 The iD44 gives you the pro sound you, as a musician, deserve. Firstly, it is a 20 in and 24 out professional audio interface developed and designed by Audient. Secondly, this is the most powerful interface of the line to date. Thirdly, Audient iD44 delivers pro audio performance for your home or pro studio. It features a Console Mic Preamp—the same than in their renowned ASP8024-HE console. Finally, designed to have ultra-low noise and distortion, it displays a glimpse of classic analog warmth we all love.
Audient iD44's Characteristics
Audient iD44 offers a surprising 126dB of dynamic range thanks to its supreme converters. Consequently, your recordings and tracks have the most real and honest natural translation of sound. The resulting detailed sound helps you to make better choices on your overall sound for delivering premium quality to your compositions. Similarly, two optical in and out connectors equip the audio interface. In turn, this gives it much more possibilities to expand. Apart from this, iD44 supports ADAT and SPDIF up to 16 channels of mic press.
In the iD44, Audient also featured the integration with outboard FX prior to conversion. This feature serves to create signal chains, track with hardware FX, mix, and record external mic press. To plug in guitars or bass guitars you will find two rich and glorious JFET instrument inputs. To listen to your mixes, you will find a set of four line outputs. You can also record and collaborate with two stereo headphone outputs—that, by the way, also are amped!

The Audio Interface A Musician Deserves
With the iD Mixer, you can integrate hardware and software without effort to produce stereo mixes and take control of channels, layouts, and presets. It is simple: to take complete control over this audio interface just turn the volume knob into a virtual scroll wheel to dial in parameters. And with The USB type – C cable, you can enable the connection to your computer in no time. It really is the one audio interface any musician deserves!
Image: Audient