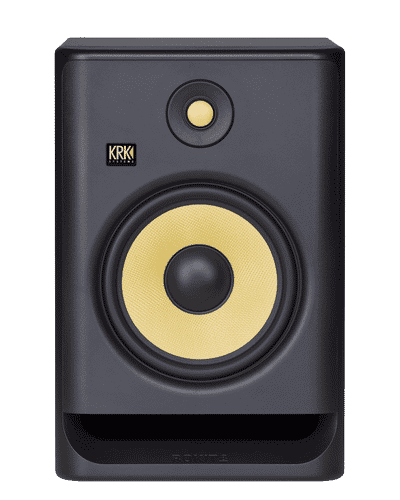 The KRK Rokit 8 G4 pro studio monitors accomplish the quality and performance expected of KRK. KRK studio monitors have tested and proven their power and performance for years. This is why producers and sound engineers around the world trust them. The Rokit 8 G4 series bi-amp now has matching Kevlar drivers, ensuring sonic goodness. These 8″ powered near-field studio monitors have many years of innovation and dedication in their design. No wonder they are the world's leading studio monitor manufacturer in the world!
The KRK Rokit 8 G4 proves once more KRK's reliability
The Rokit 8 G4 studio monitors have a response frequency of 36Hz-40KHz. Their max charge is a mighty SPL of 111dB, with a max power output of 203W. Regarding versatility in monitor speakers, it's important to consider that setting your speakers for the right environment is paramount. The KRK Rokit 8 G4 have a DSP-driven, onboard EQ. Furthermore, its high-quality, scientifically designed enclosure is ready for today's competitive producers and engineers. The performance of the KRK Rokit 8 G4 ensures you will find yellow-coned speakers in recording studios around the world
These monitors have been made and designed for music production, mixing and mastering. They are durable and dependable for accurate permanence. Their innovative Bi-Amp, 25-setting EQ make them a versatile studio monitor for all situations. Furthermore, their performance is boosted by their built-in automatic limiter, its Kevlar tweeter, and 8″ Kevlar woofer. The Rokit 8 G4 has a high and low frequency control that sets the right sound. Additionally, with factory-installed under monitor foams, the isolation between surface and speaker improves the overall clarity.
Finally, the Rokit 8 G4 has a front bass port. This port can be paired with a system optimized auto limiter that prevents unexpected peaks that could damage the speaker. On the back panel you will find multiple connections for universal connectivity.