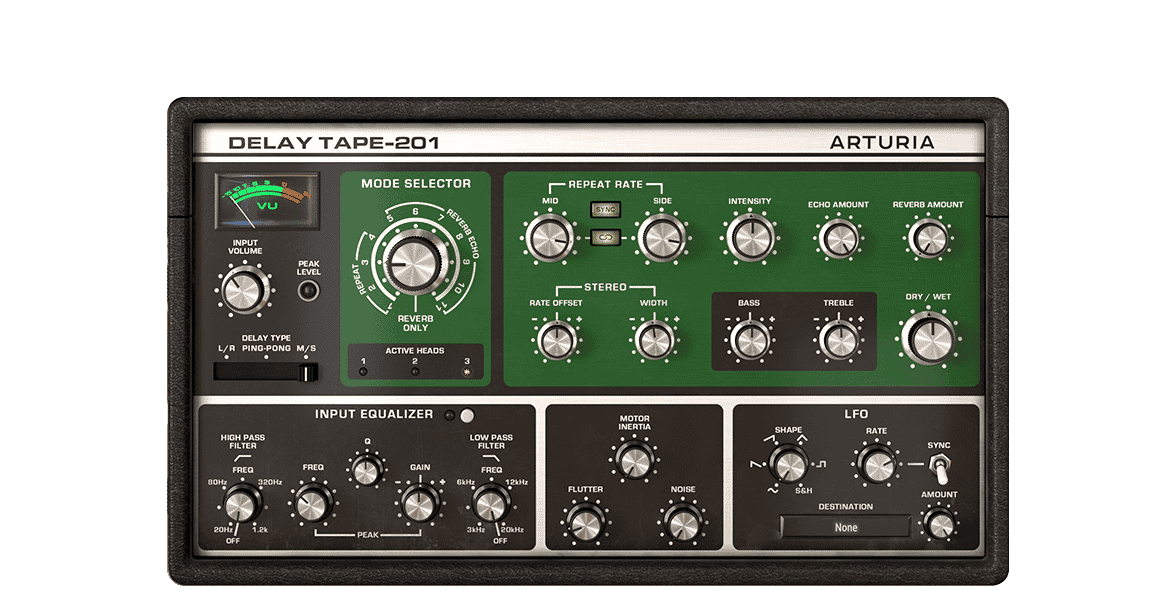 Arturia designed the Delay Tape-201, a saturated analog echo software. It can give you all the vintage hardware sound you are looking for! The reason is this plugin specializes in tape delays, emulated into software. As a result, you get the reliability and versatility that software gives you.
Delay Tape-201: Its Advantages
The Delay Tape-201 is simple to use and tweak. As mentioned before, Arturia's technologies achieved to emulate analog delays to perfection. For this, the Delay Tape-201 is one of the best tape delay emulators in existence. This software plugin is all about spacious sounds, reverberating delays, and sonic pleasure. With its amazing retro tone and its spring reverb tank, an instant lush atmosphere and rich harmonical reverb will be available at your fingertips.
A Tribute: Some Analog Magic
As you know from other plugin information in Music Production Knowledge, many softwares are homages. In this case, the Delay Tape-201 pays tribute to the original hardware tape delays. Analog tape delays formed and, afterwards, transformed, the way music sounds. And these tapes had been in use since the 70s! All these reasons make it such a marvelous experience. In summary, you have the chance to exploit this amazing hardware emulation on our music productions and sound designs today, fitting today's demands.
You can see that we are in for a treat. The Delay Tape-201 gives us the possibility to adding the magic that analog tape delays have to are own music. As previously stated, this plugin allows us to produce music these very days. The result is the combination of the analog with modern features and sound!
A Summary of Features
To conclude, there are a couple of added features in the Delay Tape-201. Firstly, the Modulation control, which gives an exciting modulation by altering the reverb amount with and LFO. In second place is the Stereo Control. It lets you warp and control the field, using modulation with an LFO controlling the stereo effect. Overall, we invite you to use random grooves to experiment with modulations and weird delays easily to kick off your creative workflow.
This software is not only just a sound-alike plugin effect; it is much more than that. It is a delicate and accurate recreation of famous 70s tape delays!
Image: Arturia