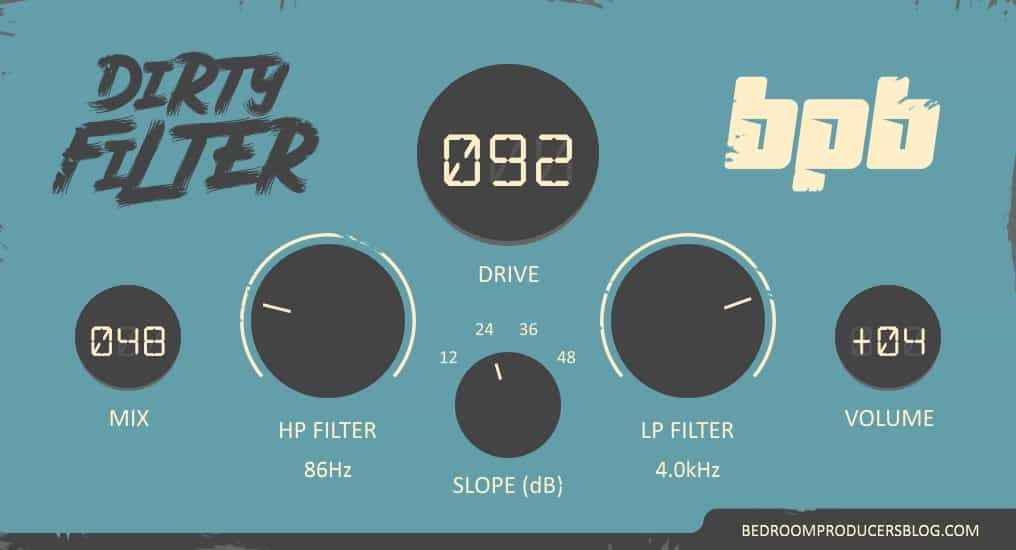 Dirty Filter is one of those free plugins that you have to have or at least try out. BPB provides this tube-saturation and filters-resonant plugin to crank up your sound and get funky results. The interface is simple and user friendly, consisting of two resonant filters, a high and low pass filter, and an emulated analogue tube circuitry. The filters range between 20Hz and 20kHz and have a selectable filter slope build that lets you select the dB octave. These octaves come are available at 12, 24, 36 a 48dB.
Dirty Filter comes with everything you need
The left side of the plug-in interface has a mix parameter knob that sets how Dirty Filter affects the signal. The right side of the interface includes a volume knob that adjusts the overall output level of the unit. Finally, the middle of the plug-in contains the Drive Amount selector, which lets you select the degree of saturation. When the knob is on the zero position, only filters will be active. Turn the position forward and you will start noticing some quick EQ on your audio; move it up to the 100 value and the extreme tube-style saturation will kick in, giving you some really creative saturation sounds
Experimenting with resonant filters and especially with cranking the drive amount selector, you will get some pretty interesting saturated results that when tamed, can get you fantastic creative results. This free plug-in is available to use on Windows and Mac users. It is available as a VST2, VST3 and AAX plug-in, making it easy to integrate it into your DAW.
Image: Bedroom Producers