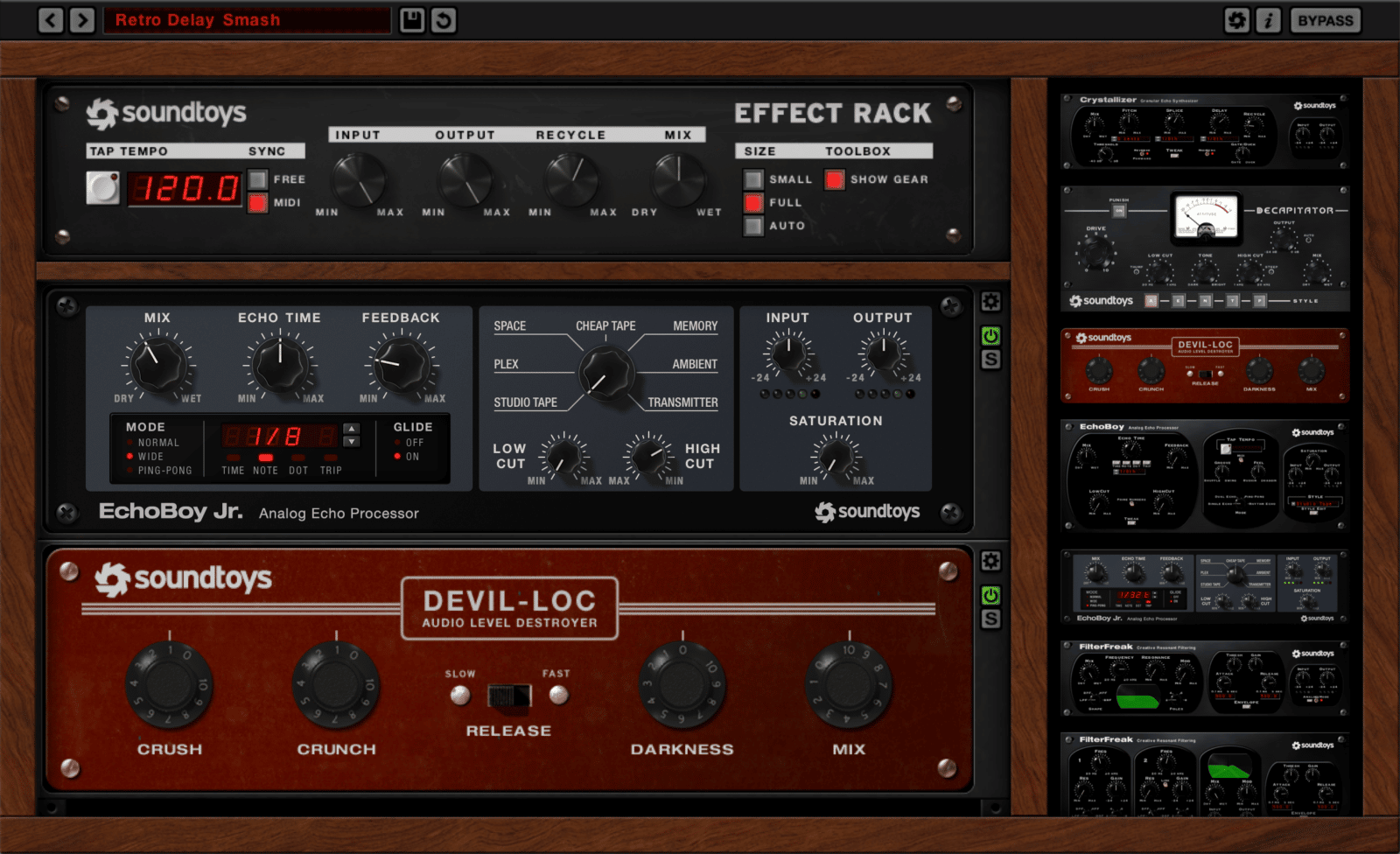 The Effect Rack by Soundtoys is a creative multi-effects system. It consists of 14 essential effects in one singular and powerful plugin. For example, this rack includes some creative friendly delay effects, like the famous EchoBoy and PrimalTap. It also incorporates saturation effects like the Radiator and Decapitator. In addition, these have a rhythmic modulator and various filtering effects. Specifically, this rack includes the following effects: Crystallizer, Devil-Loc Deluxe, EchoBoy Jr., FilterFreak, FilterFreak 2, MicroShift, PanMan, PhaseMistress, Radiator, Sie-Q, and Tremolator.
The Effects Rack by Soundtoys will inspire you and get you creative. The Effects Rack helps you to get going quickly and burst on new ideas. Specifically tailored effects for instruments, vocals, or sound design are within your choices. Similarly, find presents for modulation categories and spaces. You might try with several options (that include left-field) to let you in new sonic horizons!
How to Use the Effect Rack
The Effect Rack by Soundtoys' plugin platform is straightforward and easy to use. It has a simple drag and drop workflow. As a result, it is easy to make combinations and discover unique sounds. Likewise, you can save custom effect chains and insert them to send effects to your DAW. With global controls, you can treat the whole Effect Rack as one single and versatile unit. Here you can find effects, fine-tune input levels, and blend your them with a dry signal.
Experiment with the global recycle control! And build your own creations, like reverbs and delays, to for a unique sonic experience.
Its Technical Specifications
The Effects Rack by Soundtoys accepts these plugin formats: AAX Native, AAX AudioSuite, VST, and Audio Units (AU). (Although AU has an additional specification: it works on 64-bit with a supported sample rate of 44.1kHz to 192kHz.) The minimum system requirements to run the Effects Rack is to have a Mac OS X 10.10 (or later) and Windows 7 (or later) for PC. Load the Effects Rack by Soundtoys onto Pro Tools, Cubase, Nuendo, Sonar, Logic, Live, Digital Performer, and more.
Image: Soundtoys